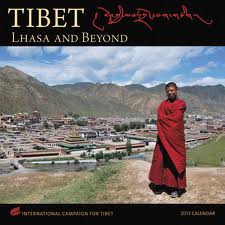 Tibetans are on the precipice, balancing a determination to pursue their cultural and religious identity against Chinese pressures to assimilate and the onslaught of modernizing development.  With each passing year, Tibet becomes more and more Chinese as government development bulldozes over these communities. 

The International Campaign for Tibet's 2013 wall calendar, Tibet: Lhasa and Beyond, takes readers from town to town, offering them a chance to get to know these places and the Tibetans who call them home.  Each month features a different hometown, highlighting the significance of the area and juxtaposing it with Tibetans' political turmoil. 

We hope that this tour will encourage you to support the Tibetan people in their struggle to live freely as Tibetans in Tibet.