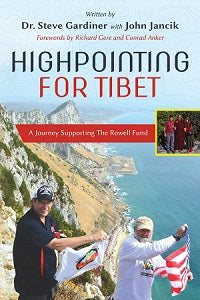 By Dr. Steve Gardiner with John Jancik | Published July 15, 2017
Mountain climber and geophysicist John Jancik was inspired to climb the highest mountain in each U.S. state following the untimely death of his friend, the famed outdoor photographer Galen Rowell, and his wife Barbara, in a small plane crash in 2002. Jancik called this ambitious project "50 for Tibet." It would benefit the Rowell Fund for Tibet, a newly created tribute to the Rowells, providing grants to Tibetan writers, artists, and musicians.
Highpointing for Tibet is Jancik and climbing partner Steve Gardiner's account of the adventures they, friends, and family experienced on this journey across the U.S. and to several international highpoints in support of Tibetan art and culture. It includes more than 65 highpoint adventures and 38 photos as well as forewords by ICT Board Chairman Richard Gere and famed climber and Rowell Fund Advisory Board Member Conrad Anker.
Proceeds from the sale of Highpointing for Tibet, available for a special discounted rate of $15.99 through ICT, go to the Rowell Fund.
ICT is deeply grateful to Rowell Fund Advisory Board member John Jancik and Steve Gardiner for their dedication and generosity to The Rowell Fund for Tibet! Learn more about the Rowell Fund at www.savetibet.org/rowellfund